Results from Bike Sebring
Submitted by
Jim Parker
on Mon, 20/02/2012 - 15:50
{This is my blog so I'm going to first talk about my race. I'll get to Maria later
}
The race started in the dark in thick fog. I started near the back of the 175 rider mass start and began to pick my way through the crowd on the twisty 3.77 mile Sebring racetrack. We were supposed to do three laps and then shift over to the public roads to complete the long 100 mile "lap 1". I figured that once we got on the road, I'd join up with the fastest moving paceline and take off. The pre-race instructions given immediately before the start had told us that by 11 miles, we should be off the track and on the road. What happened between 11 and 12 miles on my odometer was pure chaos. There was no visible exit from the track. No volunteers. No marking on the road. No visibility past about 100 feet. I found myself with a group of about 20 riders, circling around an intersection trying to find a way out. No one was happy and the phrase "clusterf***" was used in abundance. I finally rode over to a guy sitting in a pickup truck and asked him how to get back to the hotel. He pointed the way and we finally got out on the road, where things went much better.
[This is the foggy view me and Ted had at the start. Visibility on the dark track was even worse.]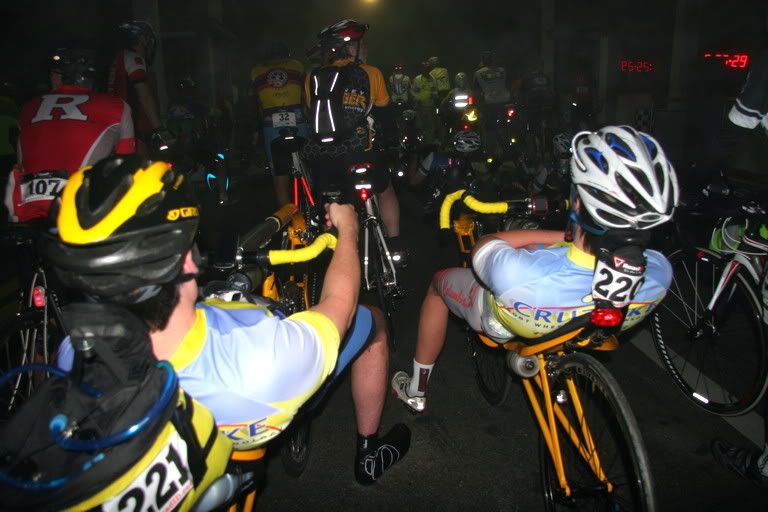 There was no way to catch the lead pack, but I worked with what I had and kept moving forward. I had started the race with another Cruzbike rider, Ted Barnett, but we got separated in the fog. At the 50 mile turn around, I saw that he was only a couple of minutes ahead of me. On the long way back to Sebring, the paceline I was helping pull came within closing distance of Doyce Johnson, highly visible with his bright blue fairing and body sock. I remembered from last year that he was very fast, so I caught him and drafted with him for awhile. Then as we were approaching the end of lap 1, a speeding torpedo of a bike passed us. It was so low to the ground, I had no idea if I could draft off it. This was Timothy Woudenberg on his Velokraft NoCom. I dropped in behind him and found that, indeed, I could get some drafting benefit. I was able to match his 25 mph speed with under 180 Watts of power. I could not see his race number where he had it attached to his bike. If I could have, I would have known that he was doing the RAAM qualifier and I would not have drafted behind him. In any case, he did not draft off me at all, and I wasn't behind him for very long because we got back to the pit area and went our separate ways. I relay the story in case you ever need to know if a Vendetta can draft off a NoCom. The answer is a definite "yes". I finished the first 100.4 mile lap in just under 4:25, less than 5 minutes behind the lead pack.
[Timothy Woudenberg flying low on his Velokraft NoCom]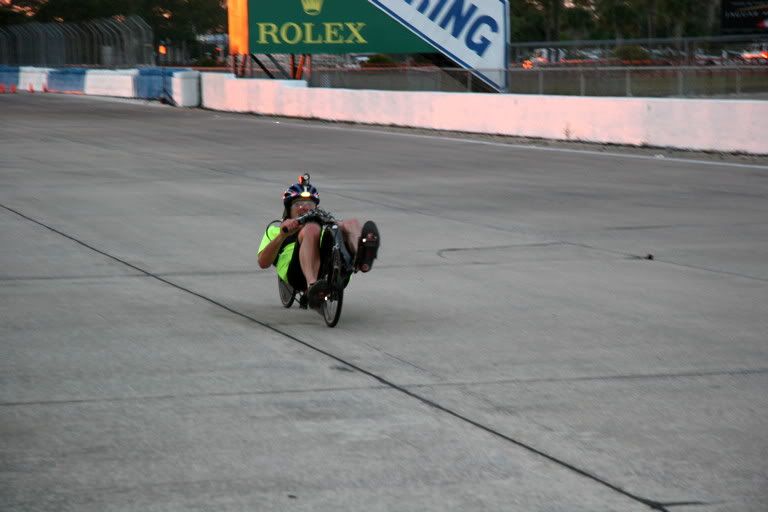 The next phase of the race was the 11.6 mile loops. This was a low point in the race simply because there were long stretches where there were few, if any, other riders around. Mark Palace, on a Silvio, rode with me and we had some time to talk and enjoy the passing orange groves. Mark lives in Florida and hadn't done much distance training and didn't finish the 12-hour, but I certainly enjoyed the miles that we did together, but they weren't particularly fast. We also had a technical problem. We were using the new Sipstream hydration system, which worked great UNLESS the bottles are inserted upside down! This happened to both Maria and I once, and I'm sure it won't happen again.
[That's me making a U-turn]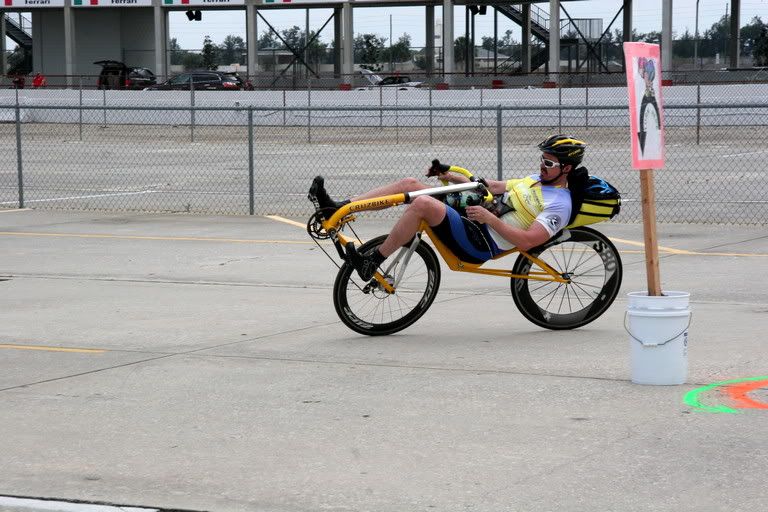 The race got much more exciting when Ted and Bachetta's best paceline (Verheul, Schlitter, Hafner, etc.) caught me around the tenth hour. They all had one lap up on me except Ted. Here's what had happened to Ted. Toward the end of the first 100 miles, Ted had closed the "fog" gap between him and the B-Team to 10 meters when the driver of a vehicle towing an airboat decided to pass the whole group, got in front of Ted, then changed his mind and dropped back into Ted's path, clipping him with the airboat and sending him off the road. Ted said he stayed upright on the bike until it ran into loose sand and then he fell over. The B-Team was gone and Ted was shaken but not seriously hurt.
[So one of these ran into Ted. Not joking.]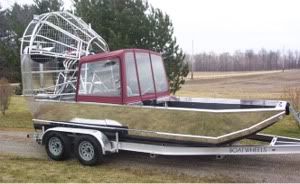 For the rest of the race, Ted and I rode with the B-Team plus Kurt Searvogel on a DF. I must say Kurt is a big strong guy and great to draft behind. I wished I had him with me sooner in the race. It was also fun to ride with Jim Verheul (Maria's coach and super cyclist) and Bacchetta's power-couple John Schlitter and Jacquie Hafner. Now having rotated through the B-Team paceline, I can vouch that Jacquie is a very strong rider. As I recently posted on bentrideronline (BROL), I firmly believe she could be a champion cyclist without a drafting team. Maybe someday we'll get to see that, but for now she really enjoys team riding and that's okay.
[Jacquie Hafner, foreground, Ted Barnett, background, make the turn-a-round]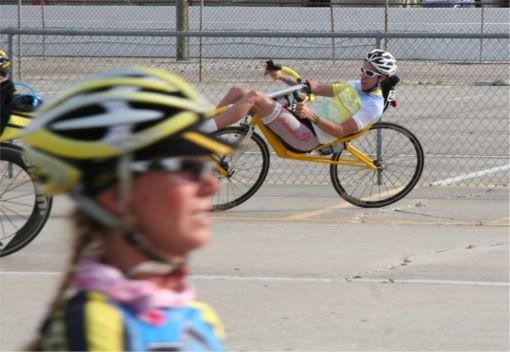 The most fun of the day came with some scorchingly fast laps on the racetrack as a beautiful sunset played out on the horizon. And then the 12-hour race was over. My last lap didn't count because it wasn't under the 12-hour wire. My official distance of 259.7 miles was good enough to set a division record and put me in a very small club of people who've ridden over 250 miles in 12-hours. Ted finished ahead of me, but got the same mileage credit and also set a record in his division. Ted and I placed first and second overall among men in the recumbent 12-hour division.
Now what about Maria? That was the question I had been asking at every chance all day long. Now that I was off the bike, I could focus on her race. By twelve hours she had already racked up over 250 miles, or about the same as her UMCA 12-hour record.
[I hope this kid learns from Maria and gets a recumbent soon]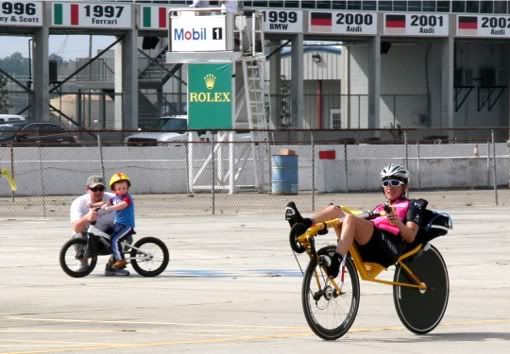 By 11 PM, she had over 340 miles and I went to bed. My son, Will, and nephew, Kent, stayed up all night tending to her needs, which weren't much. She seldom stopped, and kept the good times rolling. By 4 AM I was trackside again. Nausea most of the night had limited her calorie intake and probably contributed to her pace dropping off. But she pushed through and finished the 24-hour non-drafting race with an amazing 474.5 miles, beating all the men, too. Timothy Woudenberg had the second best finish on his NoCom and was the only other recumbent rider among the top nine finishers, the other seven all being men riding DF bikes. She surpassed Sandy Earl's course record of 442.6 miles by a whopping 31.9 miles. Maria has her own stories from her Sebring ride and when she has a chance, I'm sure she'll write it up.
[These are all the RAAM Qualifiers at the award ceremony]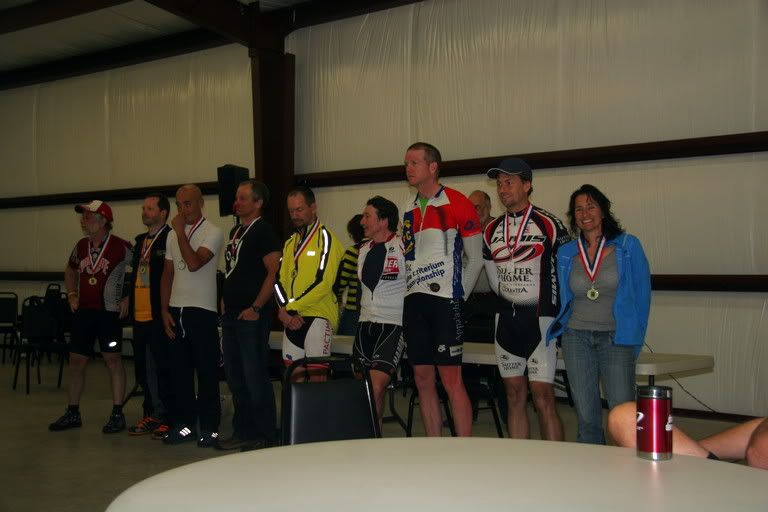 I'd like to say thank you to all our crew who supported us before, during, and after the race, and to all the fans and enthusiasts out there who offered their best wishes to us. I'd also like to thank and salute all the competitors, especially those on the Bacchetta team and crew who we found to be very gracious and supportive. Competition makes us work harder and be better. Also, thanks to the coaching of Jim Verheul, who allowed us to perform better with fewer hours of training. I know with Jim's stupendous performance he must be getting booked up. http://www.jbvcoaching.com/jimverheul.asp
Of course, a big thanks to John Tolhurst for designing the Vendetta. It's a joy to ride this responsive and fast a bicycle. I was physically very comfortable all 12-hours.
Jim
---------------------------------------------------
Mark Palace getting assistance from Crew chief Scott Lamm.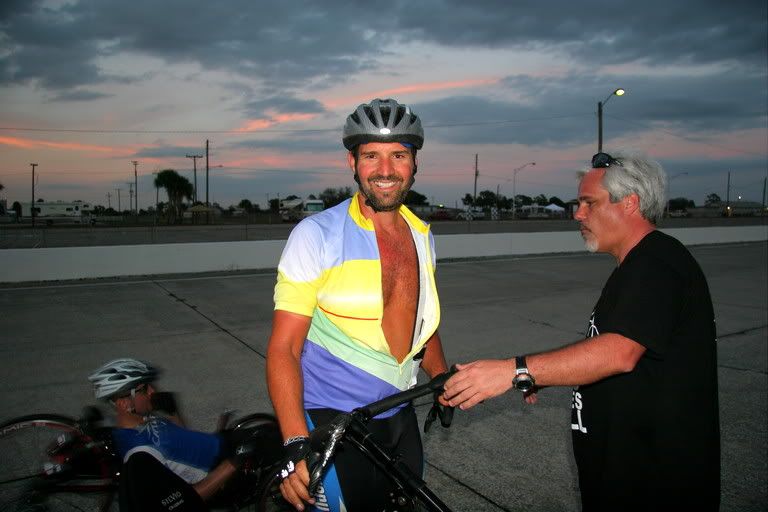 The night team worked wonders.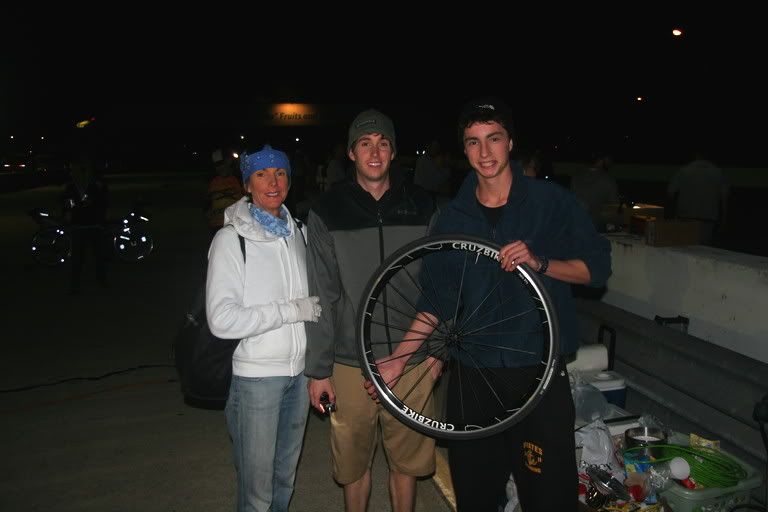 These T-shirts were a hot commodity at Sebring.